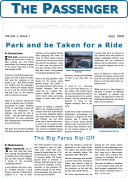 The Passenger is the newsletter of Rail Users Ireland. In our newsletter we present topical articles of interest to passengers, promoting the need for a proper well run, passenger focused transport service. Download your copy now or click one of the links below to get more information on the stories in this months edition
The newsletter is handed out at railway stations by a team of volunteers, or it can be downloaded from here
In this months issue
Park and be Taken for a Ride
Irish Rail commuters, faced with no choice but to drive to their stations, are now facing extortionate Car Parking charges for no reason other than to boost cash income to CIE.
Join the fight to oppose these charges, download our letter template from here and send it to your local TD.
The Big Fares Rip-Off
The Passenger can reveal that Irish Rail have been ripping off passengers by not telling them of the cheapest fare for their journey despite it being in the so-called "passenger charter".
Read our detailed investigation into Irish Rail's curious fare policy, its available online
Reservation doesn't mean a seat
Those who have waited decades for seat reservations and in traditional fashion now they are here they don't work. A deluge of complaints has reached us of non-existent seats, seats not marked as reserved, machines that refuse to print tickets and staff who don't help you claim your seat.
It's All About Spin
Dart and Suburban commuters will have spotted a series of posters that have started to appear on trains and in stations featuring DJ's and Ballerina's telling us something about timing. The posters claim that Irish Rail are meeting punctuality on DART and Suburban journeys close to 98% of the time. Before gloating to our Swiss cousins about our clockwork railway, The Passenger decided to investigate the spin behind the numbers.
Read more about the Department of Transport and Irish Rail's cosy deal which ensures Irish Rail cannot be punished for poor service.