Tell us where the train is going
We're sick of trains arriving at platforms when you've no idea where they're going. All suburban trains and the new intercity fleet are fitted with destination displays. The least we can expect is that the destination displays front and rear display the correct destination and if some reason they can't or are broken they should display nothing at all as to avoid generating confusion.
Irish Rail of course can't even be trusted to clean the front of the train so that the destination display is readable. The Bray end of most DART coaches can't be read for the layer of dirt. Despite a written request to management requesting the coaches be washed no change.
Of course you could understand a train to Bray having Howth on the back, but how do you get a train from Longford to Bray to show Nenagh? We certainly can't work it out. What is more confusing is sometimes the Irish and English versions of the destination displayed are different places, such wonders as Shankill/Sligeach, Botanic/Bré have been spotted.
In fact it is impossible for most suburban trains to display Gorey since the destination blinds were never updated, so all trains to Gorey operate with Arklow on the front.
Station Signage
Of course when you are standing on the platform waiting for your train things aren't much better, here we have Seapoint station Dublin. The station has an electronic information display and recently renewed signage so you would think it would be an example for others to follow, well certainly not.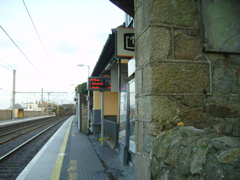 No sign will tell you which way north or south, there is a sign which obstructs the view of the electronic information display and the display itself is positioned such that it is viewable from less than 20m of the 165m long platform.
Of course we should note Seapoint is nothing compared to Broombridge, which is without a shadow of a doubt the worst station to be found in Ireland and quite possibly anywhere in Europe. No lighting, no public address system, no ticket office, no information display, no timetable. In fact no readable sign to tell you the station's name. You could be forgiven for thinking Broombridge to be a closed station, when actually over 50 trains a day stop there.